Jump on the veggies-for-breakfast train! Sweet and fluffy Healthy Zucchini Oat Muffins are made with two whole grains, freshly-grated zucchini, and not-too-much sweetener. Make them ahead for easy, healthy weekday morning breakfasts or lunchbox treats.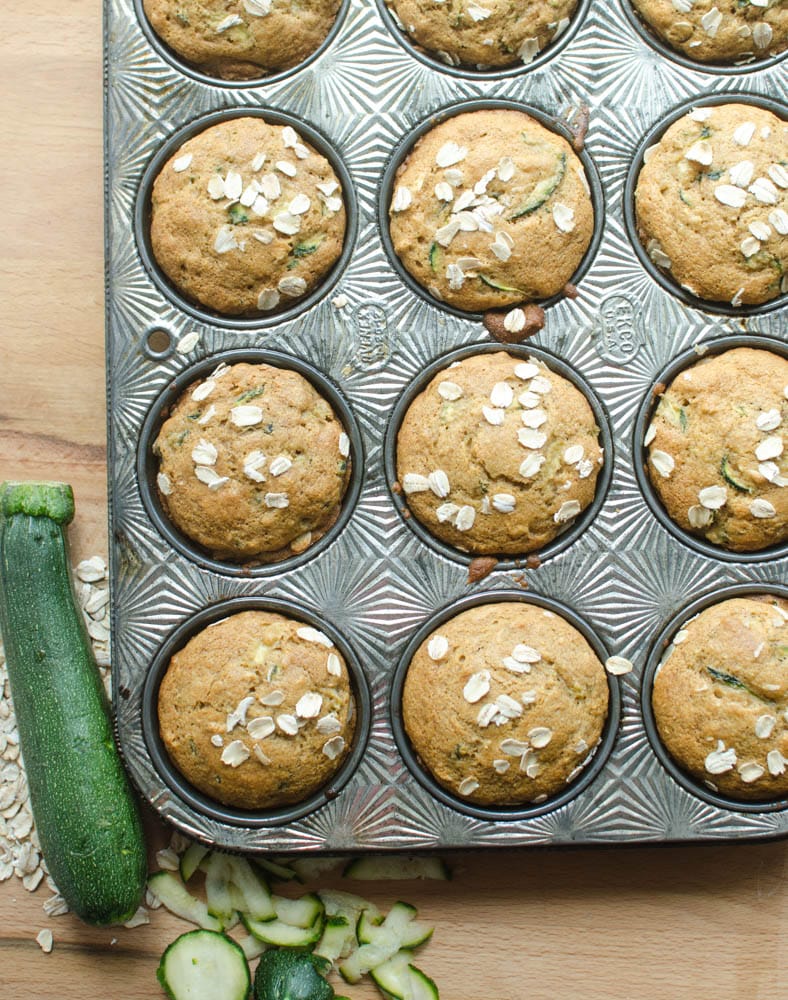 Kids sometimes say crazy things like, "I don't like zucchini." Maybe that means they haven't tried Chocolate Zucchini Bundt Cake, or Golden Sweet Zucchini Pancakes. But it doesn't mean they're doomed to despise this harmless and mild veggie for all their days.
In fact, one of the most satisfying parts about cooking for kids is getting to witness the moment they learn to like a new food for the first time. This recipe can make that moment happen!
Try these deliciously sweet, wholesome muffins on your reluctant zucchini eaters, and watch their faces light up with surprise.
5 Things to Love About Zucchini Muffins
They're made with two kinds of whole grains: whole wheat flour, and old-fashioned oats. And no refined flour to speak of.
They're sweetened naturally with pure maple syrup. Not only that, they have half the added sweeteners compared to a typical zucchini muffin recipe. They still taste delectably sweet!
They're packed with fresh zucchini. The grated veggie seemingly disappears in these muffins, adding no hint of flavor but plenty of moist, fluffy texture.
Kids love them. It's especially satisfying to watch a kid who "doesn't like zucchini" chow down on these zucchini muffins.
They freeze well. Double your batch (especially if you've got a giant garden zucchini to use up!) and stash them in your freezer for a quick lunchbox option.
Choosing a Natural Sweetener
To sweeten these muffins, we typically use pure maple syrup. It's light, sweet, and there's no indication of "maple flavor" in the final product. We've also had success using honey instead of maple syrup, or even a mix of the two (this is super handy if you're short on one or the other.)
If you use honey, expect the muffins to have a recognizable "honey" taste, and also be a bit sweeter.
Optional Add-ins for Zucchini Muffins
This recipe is wonderfully versatile. Here are out top three favorite add-ins:
raisins
walnuts
shredded carrot (use in place of half the zucchini.)
Freeze Zucchini Muffins for Later
To freeze these zucchini muffins, first let them cool completely to room temperate. Then stick them in a zipper-top freezer bag and freeze for up to a month. They should thaw at room temperature for about 40 minutes (or overnight) before you're ready to eat them.
More Veggie-Packed Muffins
We love a good muffin filled with veggies! Check out four more popular recipes:
Sweet Spinach Muffins
Power-Packed Fruit and Veggie Muffins
Orange Cranberry Muffins with Carrots
Whole Wheat Strawberry Beet Muffins
Healthy Zucchini Oat Muffins
Ingredients
1 1/2

cup

flour, whole wheat

1

teaspoon

baking powder

1

teaspoon

baking soda

1

teaspoon

cinnamon

1/2

teaspoon

salt

1

large

egg

1/2

cup

maple syrup, pure

1/3

cup

almond milk, unsweetened

1/3

cup

coconut oil

1

teaspoon

vanilla extract

1 1/2

cup

zucchini

1/2

cup

oats, dry
Instructions
Preheat the oven to 350 degrees and grease a 12-cup muffin tin well.

Peel and grate zucchini.

In a large bowl add the flour, baking powder and soda, cinnamon, and salt. Use a whisk to combine well.

Make a well in the center of the dry mixture an add the egg, syrup or honey, milk, coconut oil, and vanilla. Stir until the mixture just comes together (don't over mix). Add the zucchini and oats and stir to combine.

Divide the mixture evenly between the 12 muffin cups. Sprinkle a few additional oats on eat muffin if desired. Bake for 16-20 minutes until a toothpick inserted into the center comes out clean. Remove from the oven and let the muffins cool on a wire rack for 5 minutes. Remove from the muffin pan and serve warm, at room temperature.
The post Healthy Zucchini Oat Muffins appeared first on Super Healthy Kids.