Streamline packing school lunches and teach your kids how to pack their own balanced lunch with a Lunch Packing Station!
How to Make Your Lunch Packing Station
Find a Space
You don't have to have a huge space to create a well organized efficient lunch packing station. A small cupboard or part of a shelf in your pantry will work just great. A few tips for a good space for your station:
Low enough that your kids can reach everything
Clear of other kitchen items
One space for refrigerated items and one for pantry items
If you don't have any shelf space, consider purchasing a small set of modular drawers, or stackable shelves.
Choose Containers
You will want to take foods out of packages and put them in bins to keep everything organized. It also makes it a lot easier for kids to see what is available and grab individual items. These are our favorite containers:
Choose Foods
Here is a list of foods we like to stock our stations with for our kids to choose from. Also – check out our Instagram Stories (Costco Haul highlight bubble)
Pantry Foods
Whole grain crackers
Fruit leather
Beef jerky
Granola Bars (Homemade or Store Bought – low sugar)
Applesauce Cups
Dried Fruit
Pretzels
Popcorn
Trail Mix
Refrigerator Foods
String Cheese
Yogurt Cups
Oranges
Apples
Grapes
Blueberries
Baby Carrots
Cherry Tomatoes
Edamame
Snap Peas
Cucumbers
Hard Boiled Eggs
Pantry Bin:
Fridge Bin: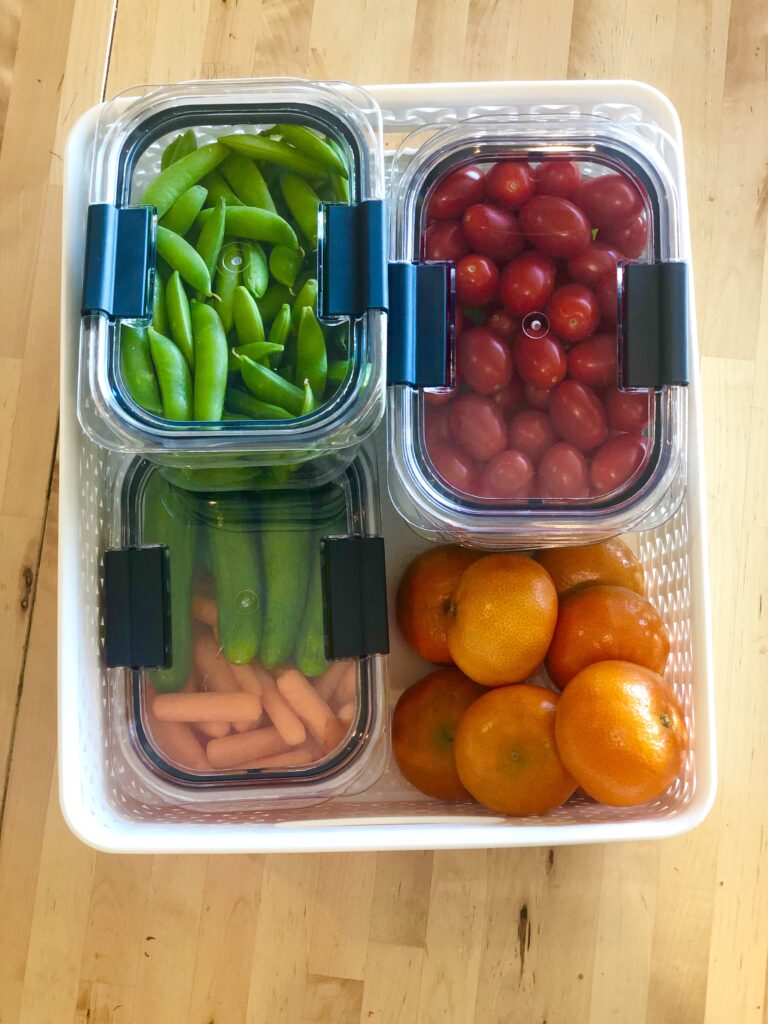 Organize and Label
Once you have your space chosen you'll want to keep it organized so that your kids know just where to find everything that they need on their own! When it comes to labeling, keep it simple. We like to have a few different bins.
Pantry Items Bin – label with a Choose 2 label.
Refrigerator Bins:

Fruit and Veggie Bin (Choose 2 label)
Dairy Bin (Choose 1 label)
Teach Your Kids
Once you have your station setup, it is time for a bit of training. The first time through with your kids, explain where they will be able to find everything that they need and model how to pack a lunch. Your kids will love being a bit more independent and you will love a bit more freedom and less chaos in the mornings. And when your kids choose their own foods, they are much more likely to eat them!
The post How to Create a School Lunch Packing Station appeared first on Super Healthy Kids.